The Importance Of Pet Vacuum Cleaners For Pet Families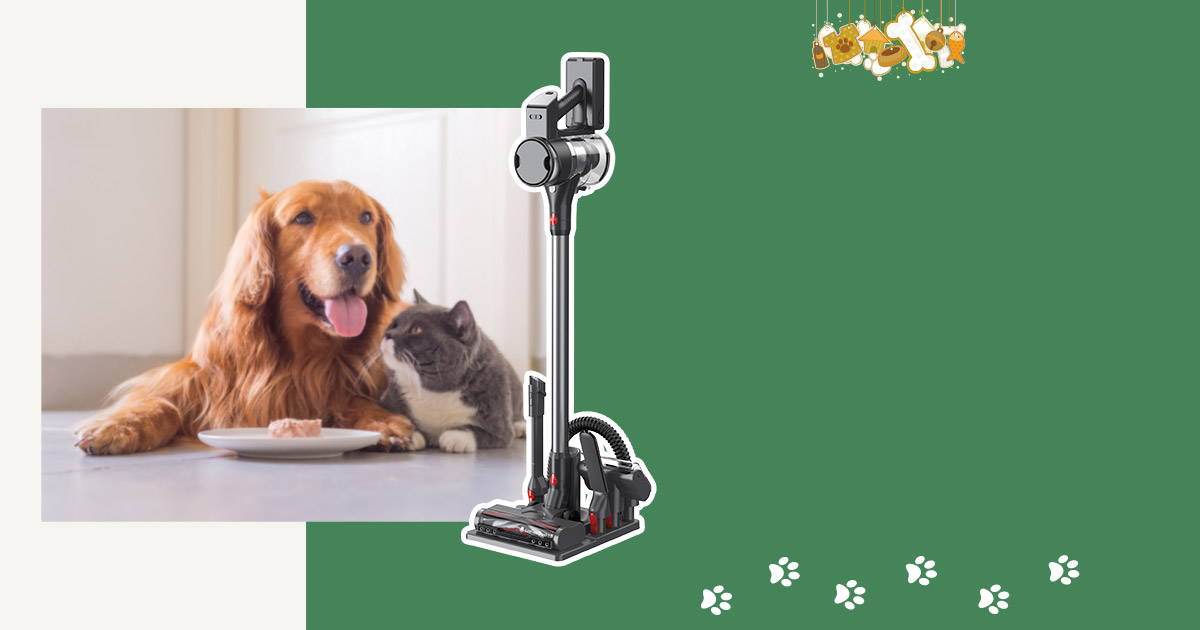 The Importance Of Pet Vacuum Cleaners
For Pet Families
Never underestimate the importance of a high-quality pet vacuum cleaner when you have a pet at home. Maintaining a clean and sanitary home environment can only be achieved with a cordless pet vacuum. And it can be extremely difficult for families with pets, particularly dogs and cats without one. This is due to the fact that pets shed hair, dander, and other particles that can trigger allergies, asthma, and other respiratory issues in family members. In fact, people who suffer from pet allergies will experience a wide range of frustrating symptoms such as congestion, sneezing, itching, shortness of breath, and watery eyes. ¹ But what you might not realize is your pets can be allergic to you! Human dander can also cause respiratory reactions in animals; in the same way, theirs can trigger a reaction in humans, so staying on top of dander is important for all involved. ²
So, if you have a particularly fluffy pet at home or you have long, luscious hair, it's important to stay on top of the excess fur and dander or risk the health of your friends and family.
Yet that's not always an easy task, especially if you have a large property. Fur can get trapped between floorboards, in the woven fibers of carpets, and in bedding. But with the right pet vacuum cleaner, however, you can easily keep your home clean and sanitary while also ensuring the comfort and well-being of your pets and family members.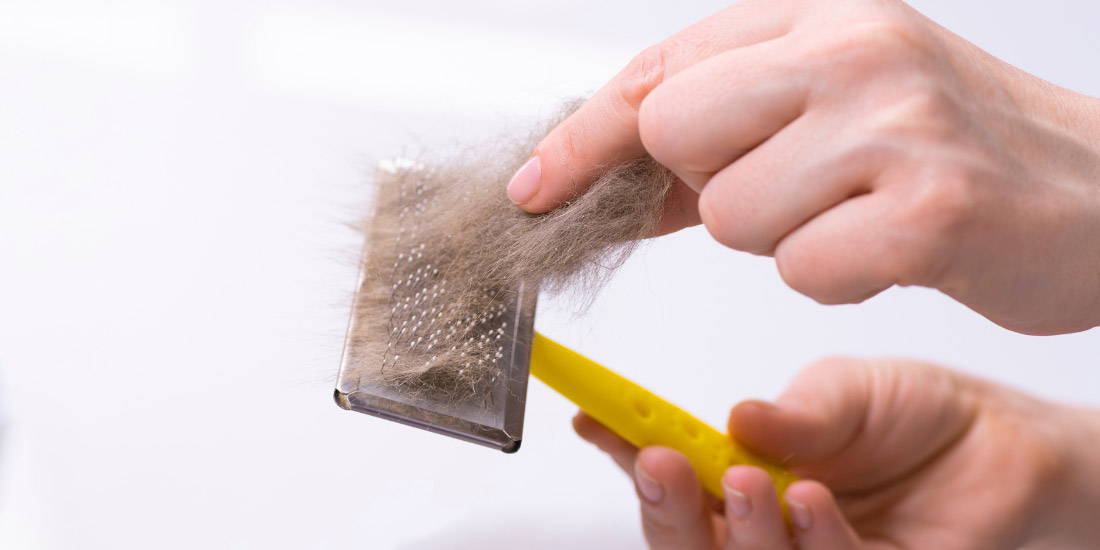 Why Is a Pet Vacuum Cleaner Important for Pet Families?
Pets undoubtedly bring a lot of joy and happiness into our lives, but they also contribute to a lot of mess and excess dirt and debris. Whether they walk in mud from the backyard, start to wipe their wet nose and paws on your soft furnishings, or shake themselves dry after a bath, owning a cat or dog can mean an endless amount of cleaning.
But don't feel too overwhelmed; cleaning up after a pet can become a whole lot easier once you invest in the right equipment. By stepping up your cleaning routine, eventually, you'll start to get on top of the constant mess and reduce the risk of respiratory issues at home. A cordless pet vacuum cleaner can help you quickly and easily clean your home and rid it of dust, dander, and pet hair on a daily basis.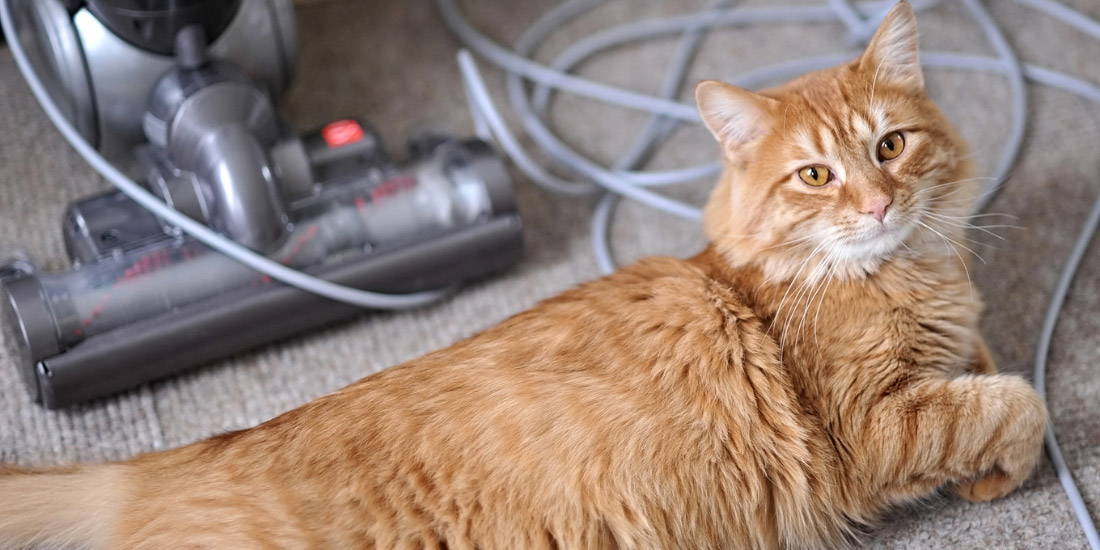 So now you understand the importance of keeping on top of all that extra pet hair and dander, it's time to find the best vacuum for pet hair!
One thing to note is power and performance are a must when it comes to picking up pet hair. A low-performance vacuum is not going to be able to remove tangled pet hair from your floor and soft furnishings, so it's often better to invest in something more substantial and designed especially for families with pets.
Start your search for the best vacuum for pet hair by looking out for a model with strong suction power. This will be the difference between a light clean and deep cleaning and pet hair removal capabilities. A strong suction cordless pet vacuum will help you to improve the air quality at home and effectively lower the risk of allergies, asthma, and other respiratory conditions.
The next thing to check is the anti-tangle functions. Often pet hair can become tangled inside a vacuum cleaner, preventing it from picking up dust, debris, and pet hair. This means spending valuable time cleaning your home without actually enjoying the results of using a pet vacuum cleaner. So rather than have to continuously check for tangles and pet hair getting trapped inside the vacuum cleaner, opt for a model that has an anti-tangle feature.
Cleaning tools are also an important consideration when shopping for a vacuum for pet hair. Look out for a cordless pet vacuum that comes with a number of accessories, such as a crevice tool, dusting brush, and upholstery cleaning tool. This is going to significantly change your approach to cleaning and help you reach those difficult places where pet hair can accumulate.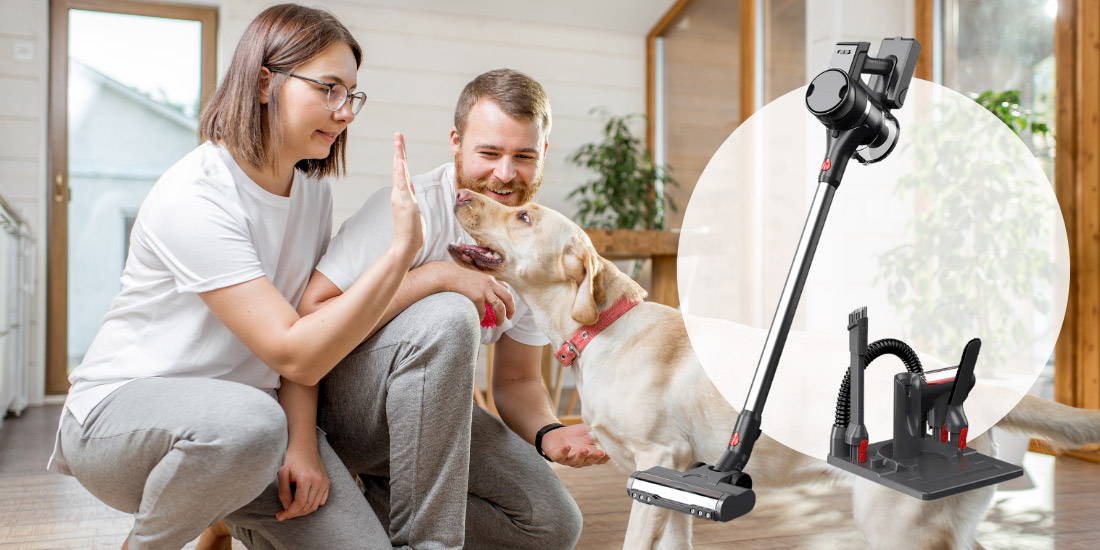 Introducing the S3 Pet Vacuum Cleaner
The best vacuum for pet hair on the market is the S3 Vacuum Cleaner from Maircle. Made specifically for pet lovers, it has been designed and developed for homes prone to pet hair and dander.
This powerful, cordless vacuum cleaner has strong suction and can effectively eliminate pet hair and dander from your floors, furniture, and bedding. Furthermore, the S3 vacuum cleaner has an excellent anti-tangle function that prevents pet hair from becoming tangled in the brush roll, making cleaning more effective.
Distinguished by the inclusion of a number of accessories, the Maircle S3 pet vacuum cleaner comes with a handy crevice tool, easy to use dusting brush, and of course, a much-needed upholstery tool. These key accessories can be used to freshen up a variety of surfaces and spaces in your home, making it a one-stop shop for all of your pet hair and cleaning needs.
This particular cordless pet vacuum is also ideal for removing pet hair from furniture, floors, bedding, and other areas in your home quickly and efficiently. You can easily clean up pet hair and dander with its powerful suction and anti-tangle function, improving the air quality in your home and lowering the risk of allergies, asthma, and other respiratory problems. And no, you don't need to keep your pets off of furniture with this powerful pet vacuum cleaner! Thanks to its incredible performance, you can let your pets enjoy every aspect of the home without worrying about smells, excess hair, and the risk of allergies.
Furthermore, the S3 vacuum cleaner is intended for pet families. It is lightweight, easy to maneuver, and has a compact design that allows it to fit into small spaces. This means you can clean your entire house from top to bottom without having to worry about the vacuum taking up too much space or being too heavy to carry around.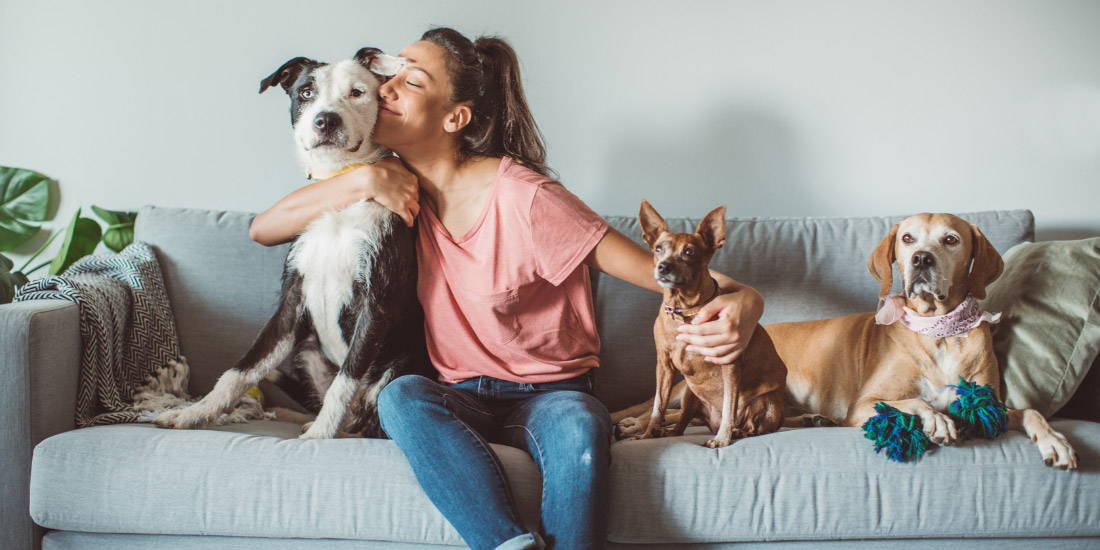 Investing in the S3 Vacuum Cleaner
Purchasing the S3 vacuum cleaner is not only beneficial to your health, but it is also beneficial to your wallet too! You can save money on costly repairs and maintenance by using a vacuum cleaner that is specifically designed to clean up pet hair and dander instead of a vacuum cleaner that is not designed for pet families. You can also have peace of mind knowing that your home is clean and sanitary and that your family members are safe from allergies, asthma, and other respiratory problems. So no more embarrassing 'wet dog' odors at home or pet hair tumble-weed rolling across your hardwood floors when entertaining guests! Yes, we've all been there!
Don't let your fluffy family member impact the cleanliness of your home. Invest in the best vacuum for pet hair today!
References:
1: https://www.lung.org/clean-air/at-home/indoor-air-pollutants/pet-dander
2: https://www.filtrete.com/3M/en_US/filtrete/home-tips/full-story/~/7-suprising-facts-about-pet-allergies/?storyid=974e37a7-71ff-464c-969c-9539d365ce49
Maircle S3 Cordless Pet Vacuum Cleaner
Exclusive 2-Year Warranty

90-Day Money Back Guarantee