Exploring the Top Features and Benefits of Wet and Dry Vacuum Cleaners
Maintaining a clean and hygienic living space is essential for a healthy and comfortable environment. When it comes to selecting the right vacuum cleaner, there are numerous options available in the market. A popular choice for versatile cleaning capabilities is a wet and dry vacuum cleaner. In this article, we will delve into the top features and benefits of wet and dry vacuum cleaners, with a special focus on our F1 wet-dry vacuum. Whether you're dealing with liquid spills, dust, or pet hair, this article will provide valuable insights to help you make an informed decision.
Powerful Suction for Effective Cleaning
One of the primary advantages of wet and dry vacuum cleaners is their powerful suction capabilities. These vacuums are specifically designed to handle both wet and dry messes with ease.
Our F1 wet-dry vacuum stands out with its high-performance motor that delivers exceptional suction power, enabling it to efficiently tackle even the toughest cleaning tasks. From liquid spills to fine dust particles, our vacuum ensures thorough and effective cleaning results. With maximum of 16 000pa suction power, Advanced motor provides powerful suction to quickly remove dirt & debris, without leaving behind moisture or streaks.
Versatility to Handle Various Cleaning Tasks
Wet and dry vacuum cleaners are renowned for their versatility. Unlike traditional vacuum cleaners, they can handle a wide range of cleaning applications. Whether you need to clean up a spilled drink on your kitchen floor or remove embedded dirt from your carpets, a wet and dry vacuum cleaner is up to the task.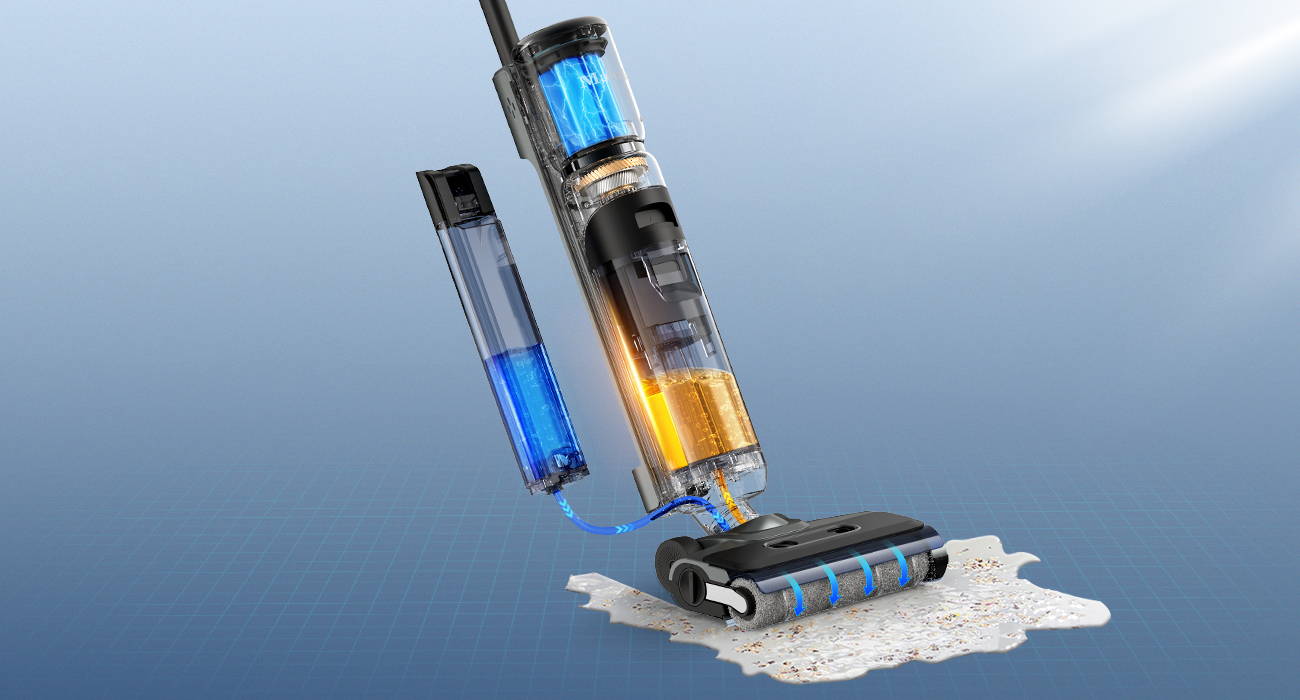 All-in-One Cleaning Solution for Efficiency
Having a wet and dry vacuum cleaner eliminates the need for multiple cleaning appliances. Our F1 wet-dry vacuum serves as an all-in-one cleaning solution that can efficiently clean different surfaces in your home. From hardwood floors to carpets, upholstery, and even your car's interior, this versatile vacuum handles it all. By consolidating your cleaning tools into one device, you not only save time but also reduce the clutter and storage space required. With the F1 wet-dry vacuum, you can seamlessly transition between wet and dry cleaning modes, providing you with maximum flexibility and convenience for your cleaning needs. Vacuum, mop, and wash, an innovative 3-in-1 cleaning system, can efficiently erase wet and dry household messes at a stroke.
HEPA Filtration System for Cleaner Air
A crucial feature of wet and dry vacuum cleaners is the inclusion of a high-efficiency particulate air (HEPA) filtration system. The Maircle F1 cordless wet-dry vacuum cleaner comes with the easy-to-empty dirty water tank separates dry waste like crumbs and hair from the dirty water so you don't clog drains with debris you pick up from the floor. Thanks to its HEPA filter which makes such separation possible and improves ability of easy disposal of the dirt.
Large Capacity and Easy Emptying
Wet and dry vacuum cleaners typically offer a larger capacity compared to regular vacuum cleaners. This is a huge benefit of owning a wet-dry vacuum. The average capacity of the cleaning and dirty water tanks for such vacuum cleaners is 0.5 L. However, unlike others, the Maircle F1 wet-dry vacuum cleaner features an above-average sized water tank of 0.7L. This improvement in tank size enhances the cleaning ability of the vacuum and provides up to 35 minutes of uninterrupted runtime. Moreover, the large capacity tanks extend your cleaning time and allow you to clean larger areas.
Sturdy and Durable Design for Longevity
Durability is a crucial factor to consider when choosing a vacuum cleaner. The robust construction and thoughtful design make wet-dry vacuums, a reliable cleaning companion that will serve you for years to come. Investing in a durable vacuum cleaner not only saves you money in the long run but also provides peace of mind knowing that your cleaning equipment is built to last.
By investing in a wet and dry vacuum cleaner like our F1 model, you can revolutionize your cleaning routine. The powerful suction, versatility, all-in-one cleaning solution, HEPA filtration system, large capacity, and durable design make it a standout choice. Incorporating the top features and benefits of wet and dry vacuum cleaners, our F1 vacuum offers an exceptional cleaning experience. Upgrade to a wet and dry vacuum cleaner today and enjoy effortless cleaning for all your household needs.